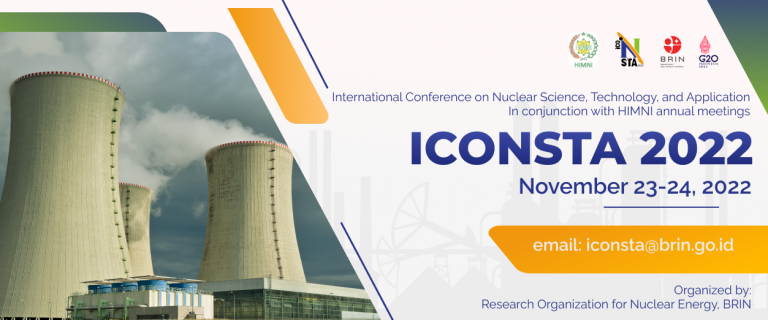 Nuclear Technologies in Achieving Sustainable Development Goals
http://conference.brin.go.id/iconsta2022/
International Conference on Nuclear Science, Technology, and Application (ICONSTA) is a series of conference activities that represent the achievements of nuclear science and technology. The conference was a forum for the communication of these stakeholders both from within and outside the country and finally, improving the capabilities and future prospects for the role of nuclear science and technology in creating excellent innovations that will benefit the nation and state of Indonesia in particular and the world community in general. This year (2022), Research Organization for Nuclear Energy, National Research and Innovation Agency of Indonesia (BRIN), in collaboration with Indonesian Nuclear Society Association (HIMNI), organize the ICONSTA 2022 in conjunction with the 1st Annual Meeting of HIMNI. The conference theme is "Nuclear Technologies in Achieving Sustainable Development Goals". These presentations provide insight for the younger generation and will become a successor to the spirit of utilizing nuclear science and technology for peaceful purposes and improving the welfare of society.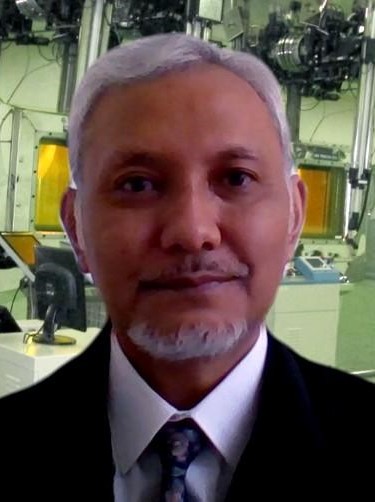 Dr. Rohadi Awaludin
Chairman of Research Organization for Nuclear Energy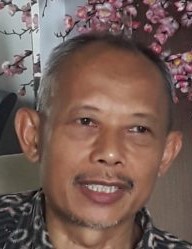 Dr. Susilo Widodo
Head of Indonesian Nuclear Society Association (HIMNI)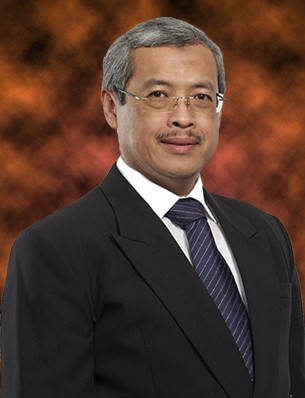 Dr. M. Ahsin Sidqi
Director of Indonesia Power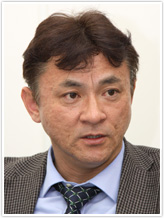 Prof. Shinji Tokonami, Ph.D
Institute of Radiation Emergency Medicine- Hirosaki University.
Fields: Environmental radioactivity, radiation protection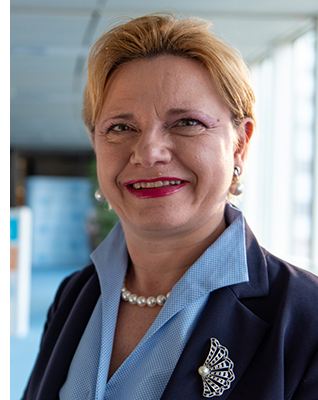 Borislava Batandjieva Metcalf*
UNSCEAR
Fields: Radiation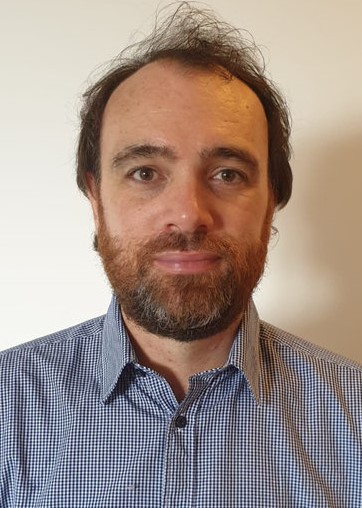 Dr. Timothy Hunter
University of Leeds
Fields: Waste Management

Prof. Amirreza Jalilian
International Atomic Energy Agency (IAEA)
Fields: Radioisotope and radiopharmacy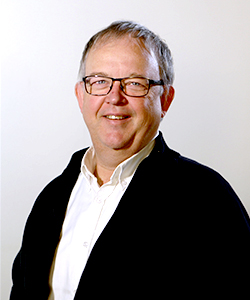 Dr. Florent Kuntz
Aerial
Fields: Dosimetry for Industry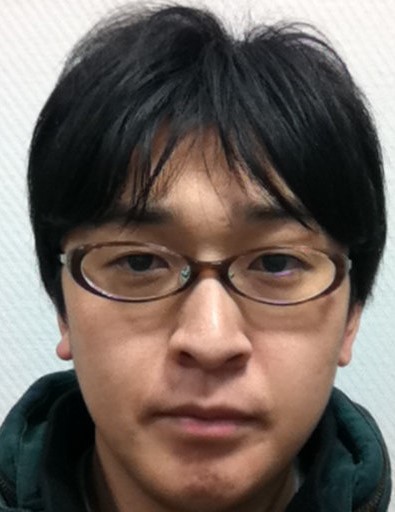 Dr. Masashi Kaneko
Japan Atomic Energy Agency
Fields: Density Functional Theory Applications to minor-actinide separation
Abstract submission deadline (1st round)
:
July 15, 2022
Abstract acceptance notification (1st round)
:
July 26, 2022
Abstract submission deadline (2nd round)
:
August 22, 2022
Abstract acceptance notification (2nd round)
:
August 31, 2022
Full paper submission deadline
:
August 26, 2022
September 16, 2022
Accepted Notification Full paper
:
October 1, 2022
October 15, 2022
Revised paper submission deadline
:
October 15, 2022
October 20, 2022
Final registration and payment deadline
:
November 1, 2022
Main conference events
:
November 23-24, 2022
This conference covers, but is not limited to, the following topics:
Nuclear science:

Advanced Material
Radioactive mineral processing

Nuclear technology:

Nuclear Reactor Technology
Nuclear Energy System Infrastructure
Nuclear Fuel Cycle Technology
Radioactive Waste Management
Decontamination and Decommissioning Nuclear Facilites
Nuclear Safety, Security and Safeguard
Irradiator and Accelerator
Nuclear instrumentation and computational
Radioecology and Environmental Radioactivity

Nuclear application:

Food and Agricultures
Radiobiology and Radiation Physics
Radioisotopes and Radiopharmaceuticals
Nuclear characterization: Spectroscopy, Neutron Scattering and Neutron Activation Analysis (NAA)
Health and Life Sciences
Natural Resources and Environmental Service
Nuclear Safety and Radiometrology
Nuclear Standardization
Guideline for Paper Submission
Registration and abstract submission is done through google form. The link for registration is given here, while for abstract submission is given here. If the paper falls under the scope of this conference, and thus accepted, you will be required to make an EDAS account to manage your paper submission. The link for EDAS website is given here. Accepted paper will be published in globally indexed proceedings.
Submitted paper must follows guidelines for AIP proceedings. AIP Conference Proceedings uses author-prepared PDFs for all published content and will not send out author proofs prior to publication. Therefore, it is important to ensure that all manuscripts are submitted in their final form and that all fonts are embedded. AIP author template packages contain comprehensive advice and guidelines for authors—including a Do's and Don'ts checklist—all papers must be prepared abiding by these guidelines. Well-prepared manuscripts enable rapid publication. When preparing your manuscript for AIP Conference Proceedings, please abide by the following requests:
Do not add page numbers or headers/footers.
Do not alter the margins of our templates.
Paper size is 8.5 x 11.
The paper must include the author's name and full affiliation address including country.
Use clear, legible graphics and diagrams contained within the margins.
Do not use copyrighted material without permission and proper crediting.
All pages are to be in portrait.
References are prepared using our sample reference guidelines (available in the template package). References can only be linked if they are complete.
Embed all fonts into your manuscript PDF.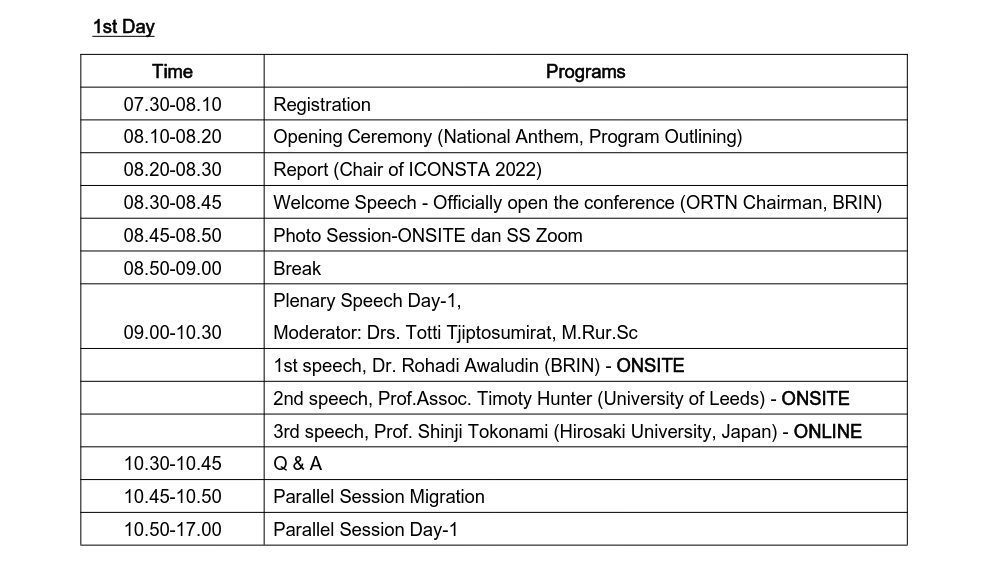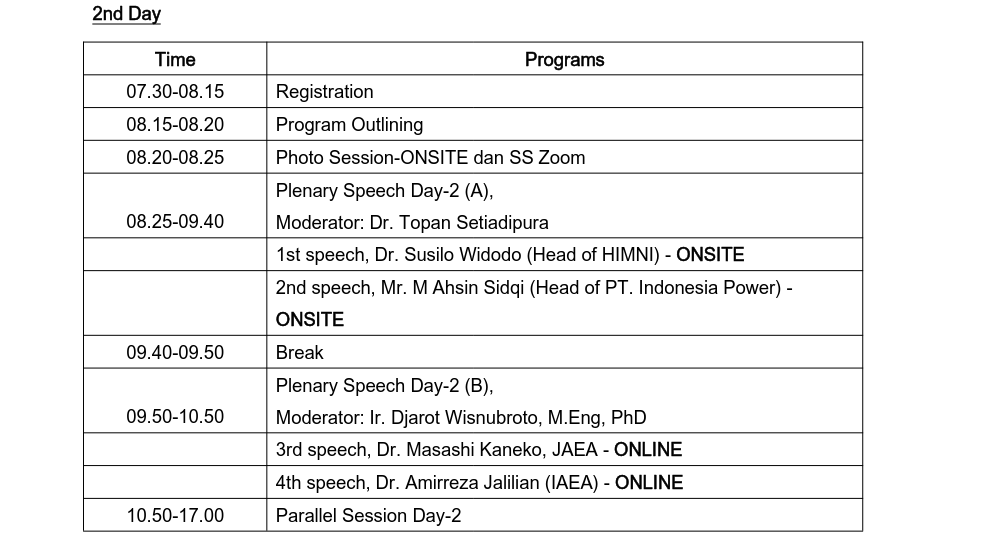 1.
Presentations with papers for general participants
Registration Fee
: Online IDR 3,500,000
Onsite IDR 4,000,000
2.
Presentations with papers for student participants
Registration Fee
: Online IDR 2,500,000
Onsite IDR 3,500,000
3.
Presentations without papers for general/student participants
Registration Fee
: Online IDR 250,000
Onsite IDR 500,000
Method of Payment
confirmed later
Steering/Advisory Committee
Organizing Committee
Conference Chair
Hendra Adhi Pratama
HIMNI Annual Meetings Chair
Topan Setiadipura
Secretary
Miftakul Munir
Ratih Luhuring Tyas
Technical Program Committee Chairs
Rudi Gunawan
Aditya Dwi Permana Putra
Devita Tetriana
Arum Patriati
Harry Nugroho Eko S
Iga Trisnawati
Publication and Documentation
Ahsani Hafizhu Shali
I Putu Susila
Mohamad Nur Yahya
Emy Mulyani
Muhammad Yusuf
Triyono Basuki
Public Relation
Haryo Seno
Mochamad Ari Ramadhani
Ilma Darojatin
Dien Putri Rahayu
Nanda Shabrina
Funding
Winda Puspitasari
Almira Citra Amelia
Editorial Board
Prof. Djarot Sulistio Wisnubroto
Prof. Anhar Riza Antariksawan
Prof. Mukh Syaifudin
Prof. Muhayatun
Dr. Emy Mulyani, S.T., M.Sc
Muhammad Yusuf, Ph.D
Reviewers
Prof. Eri Hiswara
Prof. Paston Sidauruk
Prof. Tomisato Miura
Prof. Ridwan
Dr. Sobrizal
Dr. Taufik
Dr. Imam Kambali
Dr. Muhammad Hizbul Wathon
Rinaldi Medali Rachman, M.Sc.
Bekti Palupi, M. Eng.
Rio Octovinary Pramanagara, M.Eng.
Andhika Feri Wibisono, Ph.D
Donny Hartanto, Ph.D
Dr. Eng. Irwan Liapto Simanullang
Dr. Eng. Ari Hamdani
Ilham Variansyah, Ph.D
Dr. Hadid Subki
Secretariat of ICONSTA-2022
Research Organization for Nuclear Energy, National Research and Innovation Agency (BRIN) Puspiptek Serpong, Tangerang Selatan, Banten Province 15314
Email: iconsta@brin.go.id
WhatsApp:
+62 812-9642-0332 (Winda)
+62 813-1886-5738 (Almira)